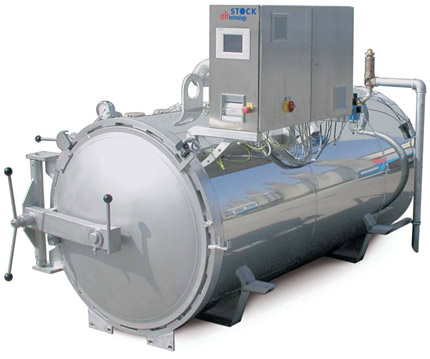 Autovap / Rotovap:
The Steam Water Spray Retort

Proven retort concept - a system with minimal energy consumption
Designed for new packaging - flexibility in pasteurisation and sterilisation
Product quality - process fidelity, short cycle times
---

Longer shelf life with the Steam Water Spray Process
If steam and water consumption have highest priority and the container material is suitable for direct contact with oxigen in the heating phase, the steam-spray process is the optimal solution.

Directly injected steam blends with fine droplets of the water spray and results in an extremely homogenous heat transfer environment throughout the whole autoclave. As water jets spray into the cages from the sides as well, even and rapid cooling, also of comparatively flat containers, is safely achieved.
Quick heating, uniform heat distribution, rapid and even cooling
Low electricity, steam and water consumption
Safe counterpressure control during all process phases
Optimal operation also with part loads
Assured process fidelity
Suitable for different types and sizes of cages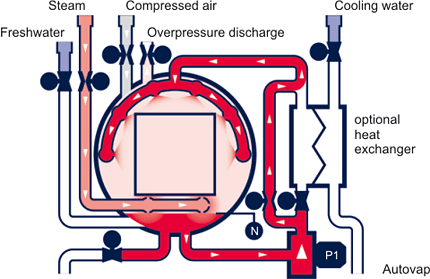 ---
Rotation
Forced convection due to rotary operation accelerates the heat transfer to the coldest spot in the containers, even with products of higher viscosity.
Short process times preserve natural quality, vitamins and nutritional values.
Agitation of the product during heating prevents burning on the container walls.

---
Procedure animation
---
Variants for all requirements
Various as our customer´s requirements regarding capacity and sterilisation process - our range of steam spray retorts: from the 1-cage autoclave for small batches of high quality "delicatessen" up to large capacity retorts for vegetable products in pouches.
Type, Diameter
Cages/gross volume litre
Rotovap DRX 1300
2/730
3/1095
4/1460
Rotovap DRX 1500
2/1020
3/1530
4/2040
Autovap DAX 1100
1/365
2/730
3/1095
4/1460
Autovap DAX 1400
2/1550
3/2325
4/3100
5/3875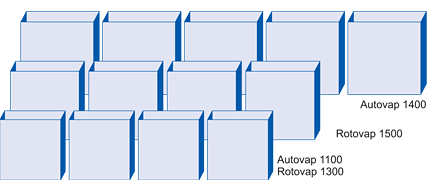 ---
Economic and clean
Especially pasteurised products require a fast cooling to low temperatures. The use of a heat exchanger for indirect cooling connected to 2 cooling media (first cooling phase with water from the mains, second with chilled water) ideally meets this requirement.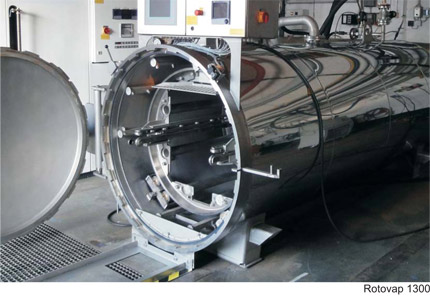 In addition the use of heat exchangers significantly simplifies the incorporation of the retorts into energy and water recovery systems: Indirect cooling = multiple use of cooling water, cooling in a sterile environment

---
High performing, flexible and economic: Automated Batch Retort Systems
Manual loading and unloading of large capacity retorts requires great physical exertion. In this regard automatic handling systems from dft technology offer a substantial contribution of facilitation. A wide range, from manually operated packing supports to semi-automatic and fully automatic batch retort handling systems provides adequate solutions for any requirement. Simplification of work flow with guaranteed flexibility!
First-class references around the globe rely on dft technology's proven workmanship and employ our cage loading and unloading equipment in different degrees of automation up to fully automated batch retort systems in their daily production.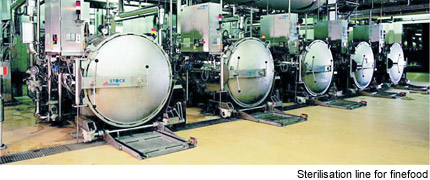 ---