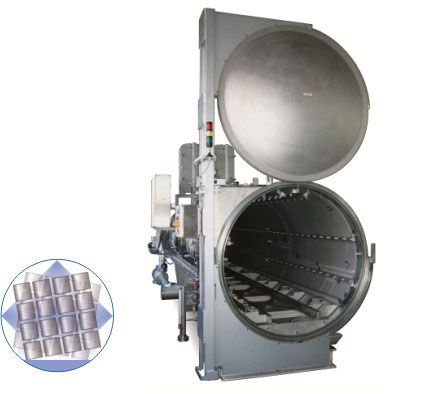 Autovap Oscillation
Steam Water Spray Oscillation Retorts
Accelerated heat transfer compared to static process
Increase of plant capacity up to 40%
Gentle heat treatment improves the product quality
Economic alternative to rotation even for high capacity retorts

---
Oscillation process gains package content agitation

With the dft technology oscillation process the product containers are pivoting around the longitudinal axis of the retort in standard cages or in stackable trays. During the inclination, the air cushion in the container ascends to the highest point and causes a forced convection of the content. Thereby the heat transfer is intensified, reducing the heating and cooling times depending on the product from 10 to 40%. Accordingly, the cooking damage is reduced regarding taste, texture and appearance. The burning at the container wall is prevented.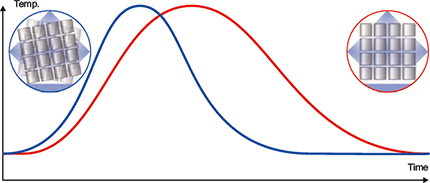 With the changing inclination the water flushing is intensified, especially of the centrally located containers. This contributes to the shortening of the process flow; deviations within the batch are minimized.
The restriction to about 15° from the vertical makes holding devices, as needed in the full rotation, superfluous. The simplified construction can be implemented with lower investment and maintenance costs even in high capacity retorts with up to six cages.
6 to 10 oscillation cycles per minute may be performed depending on the package geometry and the viscosity of the product. The holding time in the end positions is adjustable.
Products in flat-lying containers such as doypack and food service bags will especially benefit from the oscillation process. Suitable are liquid or pasty products such as soups and sauces with medium to high content of solid ingredients.
---