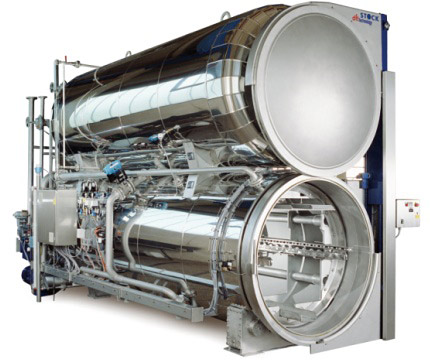 Automat / Rotomat:
The Universal Full Water Immersion Retort

Product Quality - one system for all requirements
Variety of containers - flexible without compromises
Food safety - oxygen free processing
---

Full water immersion counterpressure retort concept
Energy contained in the storage vessel allows for an extremely short temperature come-up-time.
Water envelops the containers - even temperature penetration into the product from all sides.
Optimised water circulation system guarantees homogenous temperature distribution.
Buoyancy in full water immersion relieves sensible containers as semi-rigid trays, pouches etc.
Counterpressure control with steam in the storage vessel avoids pressure peaks and minimises stress to packaging material.
Containers are at no process phase in contact with air - oxidation of products is securely excluded.
Even, gentle but nevertheless fast cooling avoids thermal shock and post-sterilisation cooking effect.
High temperatures, transferred swiftly into the product, ensure that the required lethality effect (F-value) is obtained as fast as possible.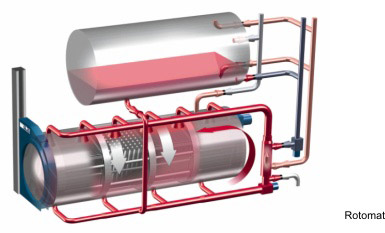 ---
Rotation
Forced convection due to rotary operation accelerates the heat transfer to the coldest spot in the containers, even with products of higher viscosity.
Short process times preserve natural quality, vitamins and nutritional values.
Agitation of the product during heating prevents burning on the container walls.
End-over-end rotation in an intensely mixed process water environment with its optimal heat transfer ensures the HTST (high temperature - short time) processing of most products.

---
Procedure animation
---
Variants for all requirements
Various as our customer's requirements regarding capacity and sterilisation process - our range of full water immersion retorts: from the 2-cage autoclave for small batches of high quality "delicatessen" up to large capacity retorts for vegetable products in pouches.
The semi-immersion-rotary process, an option in each Stock Rotomat, meets highest requirements with reference to homogenous temperature distribution even with containers of a geometry, which otherwise impedes water throughflow.
Type, Diameter
Cages/gross volume litre
Rotomat SRX 1100
2/730
3/1095
4/1460
Rotomat SRX 1300
2/1030
3/1545
4/2060
Rotomat SRX 1500
2/2050
3/3075
4/4100
Automat SAX 1100
2/730
3/1095
4/1460
Automat SAX 1300
2/1030
3/1545
4/2060
Automat SAX 1500
2/2050
3/3075
4/4100

---
Economic and clean
The use of heat exchangers significantly simplifies the incorporation of the retorts into energy and water recovery systems:
Indirect heating = recovery of condensate
Indirect cooling = multiple use of cooling water, cooling in a sterile environment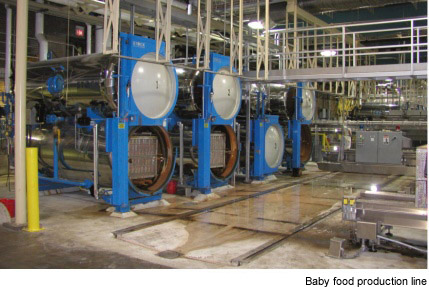 ---
High performing, flexible and economic:
Automated Batch Retort Systems
Manual loading and unloading of large capacity retorts requires great physical exertion. In this regard automatic handling systems from dft technology offer a substantial contribution of facilitation. A wide range, from manually operated packing supports to semi-automatic and fully automatic batch retort handling systems provides adequate solutions for any requirement.
Simplification of work flow with guaranteed flexibility!

---