Food Autoclaves for Fish and Seafood
---
Product: Fish
Customer:
Hawesta Feinkost Hans Westphal GmbH & Co. KG, Germany
Application: Sterilization of fish in cans in highest quality, packed in layers, largely automated process, with largest possible charges, low energy and water usage.
Solution: BAE 1400-6 HV-VA-WT, optimal distribution of heat using forced-flow overspray and special cages. Machine loading with semi-automatic shuttle, fully automatic loading/unloading line.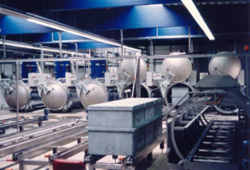 ---
Product: Fish and crabmeat
Customer:
V/O Sovrybflot, Russia
Application: Sterilization of fish and crabmeat in cans, 500,000 in 22 hours. Integration into a fully automated factory installation on a ship, with least possible use of water
Solution: 8 Overspray Static-Transit Autoclaves BAS 1400-5 HV (Hydraulic Closure) with fully automated cage transport and loading/unloading station.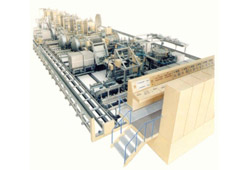 ---
Product: Fish and Seafood
Customer:
Stührk, Germany
Application: Processing of highly delicate fish and sea-food specialities in small batches.
Solution: SRV 1100-3-BV Full Water Rotation for greatest possible flexibility.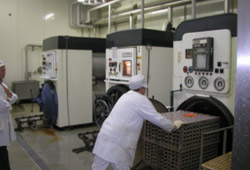 ---