Food Retorts for Baby Food
---
Product: Baby Food
Customer:
Hipp GmbH & Co. Produktions KG, Austria
Application: Sterilization of multiple-component plastic trays with complicated shape, and a high production capacity of 160/min. in combination with tray drying.
Solution: Sterilization with Full-Water Rotation Autoclaves SRS 1100-4 BV in combination with fully automatic loading/unloading system with tray drying and inspection after sterilization.

---
Product: Baby Food
Customer:
Nestle Deutschland AG, Werk Weiding (Alete), Germany
Application: Fully automatic sterilization of baby food in jars, with product tracking and identification during the complete processing. Best possible use of cold water resources.
Solution: Full water sterilization with Rotomat SRM 1300-4 HV-PS, shuttle, loading/unloading line, cage tracking, and control stand with host computer..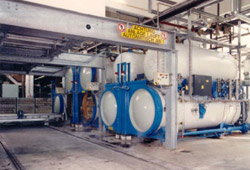 ---
Product: Baby Food
Customer:
Alima Gerber S.A., Poland
Application: Sterilization of baby food in jars.
Solution: 6 Full-Water Rotation Autoclaves SRV 1300-4 BV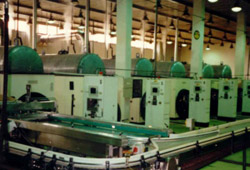 ---