Transit retorts in remarkable dimensions
Currently dft technology delivers and installs four steam water spray retorts with about eleven meters length, six tons transport weight and a capacity of 1.4 tons of product per batch.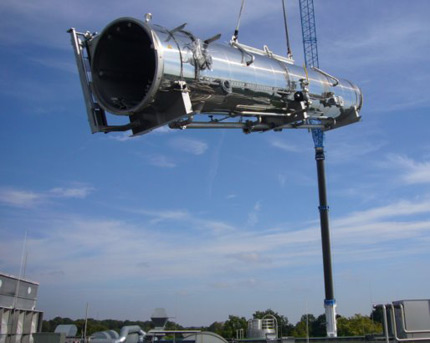 All parts of the retorts are made of stainless steel, the process is characterized by its efficiency and very low energy and water consumption.
The customer is Wernsing Feinkost GmbH from Essen in Northern Germany, a specialist for potatoes, deli and convenience food.
For the factory acceptance test dft technology has completely pre installed the system in one of their workshops to verify the temperature distribution. On each of the 16 positions in the retort eleven trays with 16 packages are stacked, totaling 2,816 packages per heating process. In a validation test before start up of production about 92 loggers collect information about the uniform temperature distribution . One process cycle takes up to two hours, so over 65 tons of product can be produced per day with a three-shift operation.
For this project dft technology GmbH is also assigned to do the on-site installation. "That will be very exciting," says General Manager Horst Hermann Stock. "The retorts will be lifted through the roof into the plant by a mobile crane with a capacity of 500 tons."
© dft technology GmbH 05.10.2012