Milk, Cream, Beverages
---
Product: Soymilk
Customer:
Green Spot (Thailand) Ltd., Thailand
Application: Sterilization of Soymilk in 300 ml glass bottles in a fully automatic sterilization line incl. option for different bottle sizes.
Solution: 4 Rotary full water immersion process retorts SRS 1500-4 HV (Hydraulic door)incl. fully automatic cages transport line, loading/unloading combination as well as transport system for automatically batch retort system.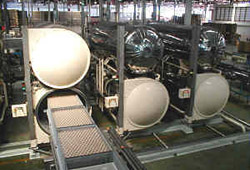 ---
Product: Coffee Drinks
Customer:
DFA, USA
Application: Sterilization of milk and milk-coffee drinks in aluminium cans, neck-in type. Sterilization of high quality coffee drinks in glass bottles on a high speed line, fully automatic and flexible for various packaging. Very short batch times have to be achieved to keep the C-value as low as possible.
Solution: ABRS for full water immersion rotary process as well as selectable semi-immersion rotation with Rotomat SRI 1300-4 HV-PS in connection with a shuttle and full automatic cage loading/unloading station (ABRS = Automated Batch Retort System).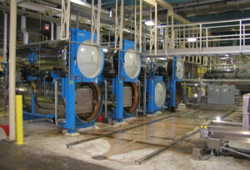 ---
Product: Milk and milk drinks
Customer:
F&N Foods SDN BHD, Malaysia
Application: Sterilization of milk and milk drinks in HDPE bottles.
Solution: 10 Full Water Rotation Autoclaves SRS 1100-4 BV VA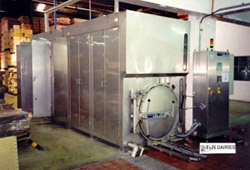 ---
Product: Milk
Customer:
Thai Dairy Industry Co. Ltd., Thailand
Application: Sterilization of milk in cans
Solution: 3 Overspray Rotation Autoclaves BRS 1300-4 BV VA WT with automated loading/unloading and cage transport.